Looking for info about the new Warzone map? It's not long now until Caldera drops, at which point we'll head to the sunny shores of the Pacific and a brand new theatre of war. This island map is a similar size to Verdansk, but packed with unique landmarks and locations. Whether it's an old movie theatre, airstrip, or submarine pen—the new exotic location should prove plenty to fight over.
Caldera is part of the additons coming with Season 1 of Warzone Pacific, with new events, as well as the anti-cheat tool, Ricochet. But it's not all sand and sunshine. Verdansk is being decommissioned—no doubt in some explosive manner—in the End of Verdansk event happening on December 6, so players can bid farewell to the old map. Rebirth Island is still sticking around, though.
In this new Warzone map guide, I'll round up the current details about Caldera, when it's releasing, and what we can expect from the Pacific battlefield. If you're looking to get into shape for the new map with some competitive builds, be sure to give this best Warzone loadout list a look.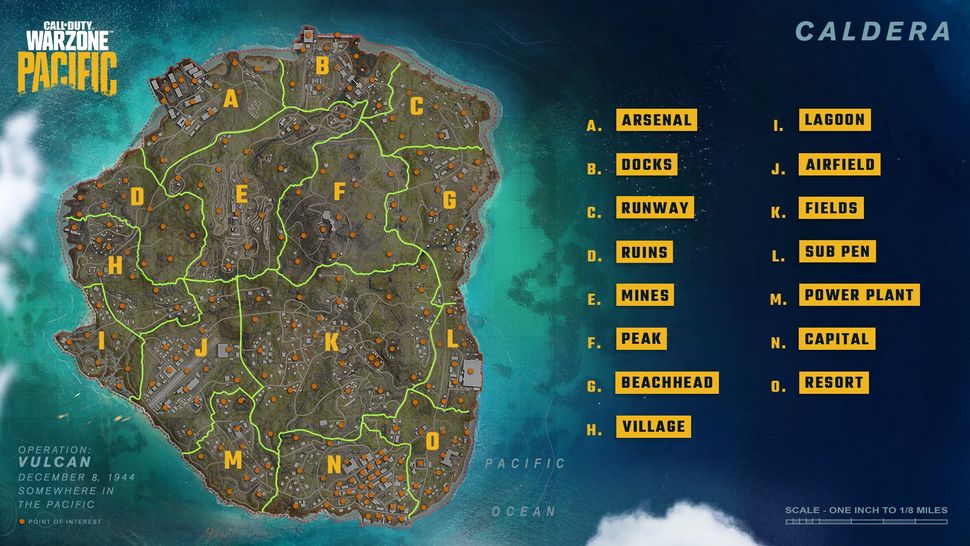 Warzone Caldera: Everything we know about the new Pacific map
It's official: we're heading to the Pacific with Warzone Caldera, a new map slated to drop on December 9—after a week's delay—alongside season one of Warzone Pacific, and the introduction of anti-cheat tool, Ricochet. This island boasts '200 points of interest' with picturesque beaches, tiny villages, lush forests, and even its very own dormant volcano that I'm sure will erupt at an inopportune moment. 
You can see a full roundup on the island's regions in the image above. They appear to be named for the significant landmark you can find in each. For a full breakdown of the island's locations and landmarks, be sure to see this expansive official blog post with images and details.
Verdansk map updates: what's changing?
It's well and truly the last days of Verdansk. In Warzone Season 6, the map saw some pretty big changes, with new Warzone bunkers to discover and find your way inside, but with the imminent release of Warzone Pacific and the Caldera map, Verdansk is finally going dark.
Though Caldera's launch was delayed, the End of Verdansk event should still be happening on December 6, according to details from Raven Software's Trello board. We don't know exactly what's happening to Verdansk, but considering the map was previously being hit by a nuke, it's safe to say it's going to be an explosive farewell. 
Warzone Verdansk map hot zones and best loot
The best Warzone loot can be found in supply boxes scattered across the map. The valuable items found in these chests are random, containing weapons (often blueprints with pre-fitted attachments), field upgrades, cash, and even the occasional killstreak. However, it's always worth keeping an eye out for the rarer, orange boxes, which hold better gear such as gas masks and armor satchels that let you hold more armor plates. 
Closely related to the best loot are the hottest zones on the Warzone map. Hot zones are where you can expect the most bloodshed to go down at the very beginning of the game. Whether you want to avoid them so you can loot in peace or find somewhere to immediately bloody your hands, check the list below. It's no coincidence that these locations also coincide with loot-rich spots.
Here's a list of the hot zones: 
Gora Summit
Verdansk Airport
Superstore
Verdansk Hospital
Downtown Tavorsk District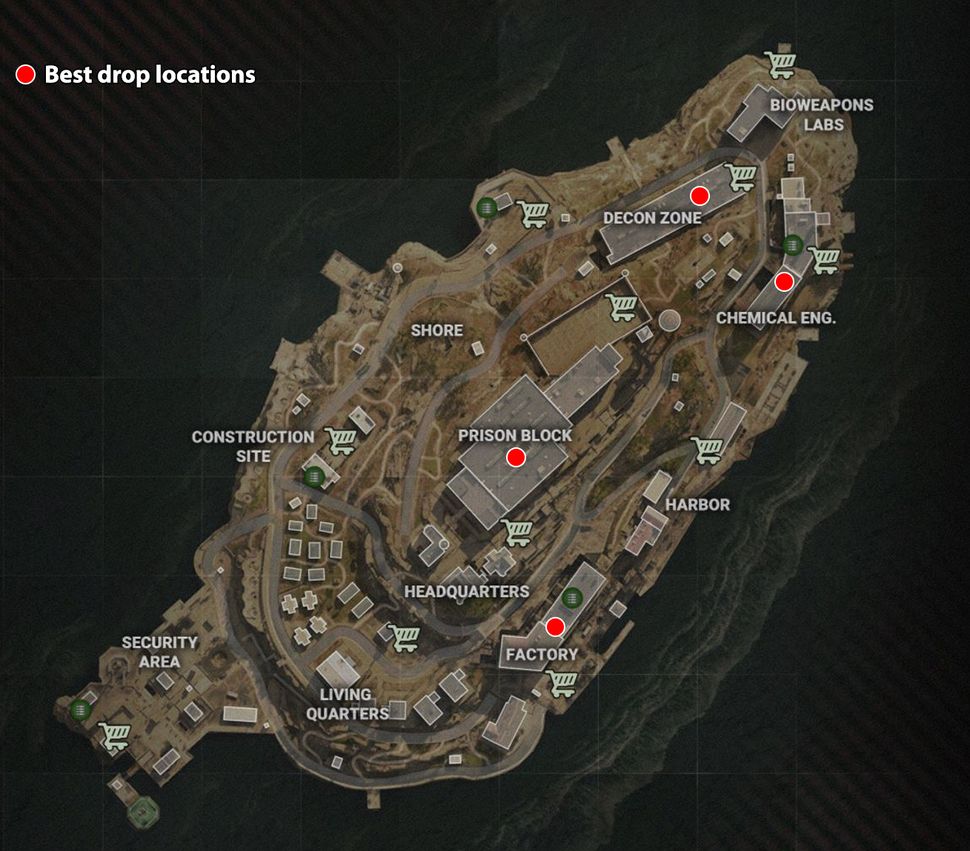 Warzone Rebirth Island map: Best drop locations
Rebirth Island is a much smaller map, currently available in its own playlist. Modes like Rebirth Mini Royale Quads/ Duos are fast-paced matches that take place in condensed areas on the island. If you're hoping to run into other squads quickly as you hunt for the best Warzone guns, here are the best Rebirth Island drop locations:
Prison Block 
Decon Zone
Chemical Engineering
Factory
There are also five ammo caches across Rebirth Island, found in: Factory, Chemical Engineering, Security Area, east of Construction Site, and west of Decon Zone.